So, I heard about this readathon whilst I was catching up on some booktube videos that I'd been neglecting to watch and the idea of doing it just stuck with me. I used to play Sims quite a lot whilst I was growing up and I rather enjoyed it. The rules of the readathon are simple and if you'd like to hear them in depth from the maker herself here is the link to her announcement video. The readathon runs the entirety of June and I am itching to get started so without further ado, here are the challenges and my corresponding TBR:
---
Create-a-sim: Read a book that is first in a series
For this challenge, I've chosen to read Half-Blood – Jennifer L Armentrout. This was one of the books that, when I was sorting through my bookcase, I put on the maybe pile. So, I'm hoping this readathon helps me to decide whether to keep it or not.
The Hematoi descend from the unions of gods and mortals, and the children of two Hematoi pure bloods have godlike powers. Children of Hematoi and mortals–well, not so much. Half-bloods only have two options: become trained Sentinels who hunt and kill daimons or become servants in the homes of the pures.
Seventeen-year-old Alexandria would rather risk her life fighting than waste it scrubbing toilets, but she may end up slumming it anyway. There are several rules that students at the Covenant must follow. Alex has problems with them all, but especially rule #1:Relationships between pures and halfs are forbidden. Unfortunately, she's crushing hard on the totally hot pure-blood Aiden. But falling for Aiden isn't her biggest problem–staying alive long enough to graduate the Covenant and become a Sentinel is.
If she fails in her duty, she faces a future worse than death or slavery: being turned into a daimon, and being hunted by Aiden. And that would kind of suck
Buy a house: Read a contemporary or book set in our world
For this challenge, I've chosen to read a contemporary and it is a reread, however, I don't really remember most of the plotline and I'm rereading so I can read the sequel that's just come out. I've chosen to read Royals – Rachel Hawkins because who doesn't love a great royal romance?
Meet Daisy Winters. She's an offbeat sixteen-year-old Floridian with mermaid-red hair; a part-time job at a bootleg Walmart, and a perfect older sister who's nearly engaged to the Crown Prince of Scotland. Daisy has no desire to live in the spotlight, but relentless tabloid attention forces her to join Ellie at the relative seclusion of the castle across the pond. 
While the dashing young Miles has been appointed to teach Daisy the ropes of being regal, the prince's roguish younger brother kicks up scandal wherever he goes and tries his best to take Daisy along for the ride. The crown–and the intriguing Miles–might be trying to make Daisy into a lady . . . but Daisy may just rewrite the royal rulebook to suit herself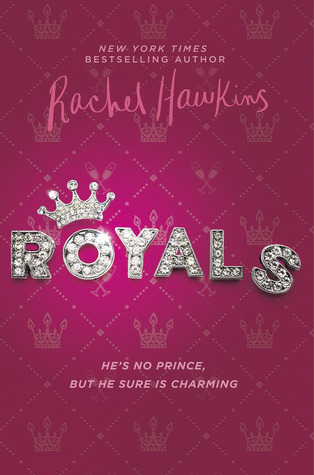 Get a job: Secret agent – Read a mystery book
For this challenge, I've chosen a book I genuinely know nothing about and that's Dead of Winter – Chris Preistley. I recently got this book from a charity shop (6 books for £1!) and I can't wait to see if it's as scary as I thought.
Michael Vyner recalls a terrible story, one that happened to him. One that would be unbelievable if it weren't true! Michael's parents are dead and he imagines that he will stay with the kindly lawyer, executor of his parents' will …Until he is invited to spend Christmas with his guardian in a large and desolate country house. His arrival on the first night suggests something is not quite right when he sees a woman out in the frozen mists, standing alone in the marshes. But little can prepare him for the solitude of the house itself as he is kept from his guardian and finds himself spending the Christmas holiday wandering the silent corridors of the house seeking distraction. But lonely doesn't mean alone, as Michael soon realises that the house and its grounds harbour many secrets, dead and alive, and Michael is set the task of unravelling some of the darkest secrets of all. This is a nail-biting story of hauntings and terror by the master of the genre, Chris Priestley
Make a friend: Read a book that features friends
For this challenge, I've chosen a book that I've been dying to reread since I got it as an audiobook and that's The Upside Of Unrequited – Becky Albertalli. I adore Becky's writing. Simon Vs The Homo Sapiens Agenda is one of my all-time favourite books and I genuinely have been waiting to reread this for so long
. Seventeen-year-old Molly Peskin-Suso knows all about unrequited love—she's lived through it twenty-six times. She crushes hard and crushes often, but always in secret. Because no matter how many times her twin sister, Cassie, tells her to woman up, Molly can't stomach the idea of rejection. So she's careful. Fat girls always have to be careful. Then a cute new girl enters Cassie's orbit, and for the first time ever, Molly's cynical twin is a lovesick mess. Meanwhile, Molly's totally not dying of loneliness—except for the part where she is. Luckily, Cassie's new girlfriend comes with a cute hipster-boy sidekick. Will is funny and flirtatious and just might be perfect crush material. Maybe more than crush material. And if Molly can win him over, she'll get her first kiss and she'll get her twin back. There's only one problem: Molly's coworker Reid. He's an awkward Tolkien superfan with a season pass to the Ren Faire, and there's absolutely no way Molly could fall for him. Right?
Fall in love: Read a book with a romance element
Yes. You've probably guessed that I would somehow squeeze my reread of this book on to this TBR. It is Pride Month! I'll be rereading Simon Vs The Homo Sapiens Agenda – Becky Albertalli because I need my Simon and Blue fix!
Sixteen-year-old and not-so-openly gay Simon Spier prefers to save his drama for the school musical. But when an email falls into the wrong hands, his secret is at risk of being thrust into the spotlight. Now Simon is actually being blackmailed: if he doesn't play wingman for class clown Martin, his sexual identity will become everyone's business. Worse, the privacy of Blue, the pen name of the boy he's been emailing, will be compromised.
With some messy dynamics emerging in his once tight-knit group of friends, and his email correspondence with Blue growing more flirtatious every day, Simon's junior year has suddenly gotten all kinds of complicated. Now, change-averse Simon has to find a way to step out of his comfort zone before he's pushed out—without alienating his friends, compromising himself, or fumbling a shot at happiness with the most confusing, adorable guy he's never met
Reach the top of your career track: Read a finale
You know what's coming. For this challenge, I'll be reading Leah on The Offbeat – Becky Albertalli. Historically my least favourite of Becky's books. But I'm still itching to reread. I'm not even sure it counts as a finale, but we're working with it.
Leah Burke—girl-band drummer, master of deadpan, and Simon Spier's best friend from the award-winning Simon vs. the Homo Sapiens Agenda—takes center stage in this novel of first love and senior-year angst.
When it comes to drumming, Leah Burke is usually on beat—but real life isn't always so rhythmic. An anomaly in her friend group, she's the only child of a young, single mom, and her life is decidedly less privileged. She loves to draw but is too self-conscious to show it. And even though her mom knows she's bisexual, she hasn't mustered the courage to tell her friends—not even her openly gay BFF, Simon.
So Leah really doesn't know what to do when her rock-solid friend group starts to fracture in unexpected ways. With prom and college on the horizon, tensions are running high. It's hard for Leah to strike the right note while the people she loves are fighting—especially when she realizes she might love one of them more than she ever intended
Pay Your Bills: Read your most recent purchase 
Weird one for this challenge, the last book I purchased was from a Library Sale. It was 10p and I mainly bought it because I'd heard of the TV Series. It's The Darling Buds of May – H. E. Bates. It's a relatively short book that was in exceptional condition considering it was a library book, so I'm hoping to fly through it but I won't lie. I'm slightly worried.
The Darling Buds of May, which came out in 1958, was the first of five Larkin novels and in it readers witness the transformation of Mr. Charlton from a undernourished and timid tax clerk to 'Charlie', a fully-converted member of the Larkin way of life: an easygoing celebration of nature, food, drink, and family. In the process, the reader is introduced to the Brigadier, Miss Pilchester, and Angela Snow. Setting the style for the series, the book ends with a grand celebration, and the announcement of the wedding of Charlie and Mariette. 
Eat a Cookie: Read a book under 200 pages
Fairly simple choice for this challenge, I chose The Wizard Of Oz – L. Frank Baum. I've never read it so, I thought it was time. Plus, I really want to read the Dorothy Must Die Series and I worry that if I haven't read the original story then I won't understand the retelling.
When Dorothy and her little dog Toto are caught in a tornado, they and their Kansas farmhouse are suddenly transported to Oz, where Munchkins live, monkeys fly and Wicked Witches rule. Desperate to return home, and with the Wicked Witch of the West on their trail, Dorothy and Toto – together with new friends the Tin Woodsman, Scarecrow and cowardly Lion – embark on a fantastic quest along the Yellow Brick Road in search of the Emerald City. There they hope to meet the legendary, all-powerful Wizard of Oz, who alone may hold the power to grant their every wish. Just as captivating as it was a hundred years ago, this is a story that all ages will love
Woo Hoo! – Read a smutty book
Logical right? We've fallen in love time to Woo Hoo! I honestly didn't know what to read for this challenge. I was thumbing through my kindle, stopping at Random books asking myself out loud if they had sex in them. Goodreads was no help, tried to tell me Twilight was smut. Pfft. No, I honestly had no idea what to read for this challenge, until I came across Losing It – Cora Carmak. I've heard it's not that smutty. So I'll be reading that.
Sick of being the only virgin among her friends, Bliss Edwards decides the best way to deal with the problem is to lose it as quickly and simply as possible – a one-night stand. But her plan turns out to be anything but simple when she freaks out and leaves a gorgeous guy alone and naked in her bed with an excuse that no one with half-a-brain would ever believe. And as if that weren't embarrassing enough, when she arrives for her first class of her last college semester, she recognizes her new theatre professor. She'd left him naked in her bed about 8 hours earlier.
Get married: Read a book with an established couple
Getting married, The Woo Hoo! must have been good. Anyway, I'm really clutching at straws here because I want to reread Harry Potter so I'm thinking outside the box and saying that The Dursleys are an established couple. So I'll be reading Harry Potter and the Philosopher's Stone – J K Rowling. Fight me.
Harry Potter's life is miserable. His parents are dead and he's stuck with his heartless relatives, who force him to live in a tiny closet under the stairs. But his fortune changes when he receives a letter that tells him the truth about himself: he's a wizard. A mysterious visitor rescues him from his relatives and takes him to his new home, Hogwarts School of Witchcraft and Wizardry. After a lifetime of bottling up his magical powers, Harry finally feels like a normal kid. But even within the Wizarding community, he is special. He is the boy who lived: the only person to have ever survived a killing curse inflicted by the evil Lord Voldemort, who launched a brutal takeover of the Wizarding world, only to vanish after failing to kill Harry. Though Harry's first year at Hogwarts is the best of his life, not everything is perfect. There is a dangerous secret object hidden within the castle walls, and Harry believes it's his responsibility to prevent it from falling into evil hands. But doing so will bring him into contact with forces more terrifying than he ever could have imagined.
Have a baby: Read a book that features a child
Honeymoon baby? I've chosen to read Big Little Lies – Liane Moriarty for this challenge. I really liked the TV show and I wanted to give the book a chance.
Big Little Lies follows three women, each at a crossroads:
Madeline is a force to be reckoned with. She's funny and biting, passionate, she remembers everything and forgives no one. Her ex-husband and his yogi new wife have moved into her beloved beachside community, and their daughter is in the same kindergarten class as Madeline's youngest (how is this possible?). And to top it all off, Madeline's teenage daughter seems to be choosing Madeline's ex-husband over her. (How. Is. This. Possible?).
Celeste is the kind of beautiful woman who makes the world stop and stare. While she may seem a bit flustered at times, who wouldn't be, with those rambunctious twin boys? Now that the boys are starting school, Celeste and her husband look set to become the king and queen of the school parent body. But royalty often comes at a price, and Celeste is grappling with how much more she is willing to pay. New to town, single mom Jane is so young that another mother mistakes her for the nanny. Jane is sad beyond her years and harbors secret doubts about her son. But why? While Madeline and Celeste soon take Jane under their wing, none of them realizes how the arrival of Jane and her inscrutable little boy will affect them all.

Meet the Grim Reaper: Read a book featuring death
How about one narrated by death itself? That's right for this challenge I will finally be reading The Book Theif by Markus Zuzak. I can't wait to finally read this book. It's been sitting on my shelf for weeks. I am so excited.
It is 1939. Nazi Germany. The country is holding its breath. Death has never been busier, and will be busier still. By her brother's graveside, Liesel's life is changed when she picks up a single object, partially hidden in the snow. It is The Gravedigger's Handbook, left behind there by accident, and it is her first act of book thievery. So begins a love affair with books and words, as Liesel, with the help of her accordian-playing foster father, learns to read. Soon she is stealing books from Nazi book-burnings, the mayor's wife's library, wherever there are books to be found.
But these are dangerous times. When Liesel's foster family hides a Jew in their basement, Liesel's world is both opened up, and closed down.
Become a Ghost: Read a spooky book
For this challenge, I'm going to be reading another random book I got at a charity shop for very cheap. Rosebush – Michele Jaffe. I've been putting this off and off and if I don't read it this month I'm afraid it'll be back to the charity shop with it.
Instead of celebrating Memorial Day weekend on the Jersey Shore, Jane is in the hospital surrounded by teddy bears, trying to piece together what happened last night. One minute she was at a party, wearing fairy wings and cuddling with her boyfriend. The next, she was lying near-dead in a rosebush after a hit-and-run. Everyone believes it was an accident, despite the phone threats Jane swears were real. But the truth is a thorny thing. As Jane's boyfriend, friends, and admirers come to visit, more memories surface-not just from the party, but from deeper in her past . . . including the night her best friend Bonnie died. With nearly everyone in her life a suspect now, Jane must unravel the mystery before her killer attacks again. Along the way, she's forced to examine the consequences of her life choices in this compulsively readable thriller.
---
And there we have it! What are you reading for Simsathon? Anything Good??